Climate Changemakers – Digital Innovation for Youth Climate Action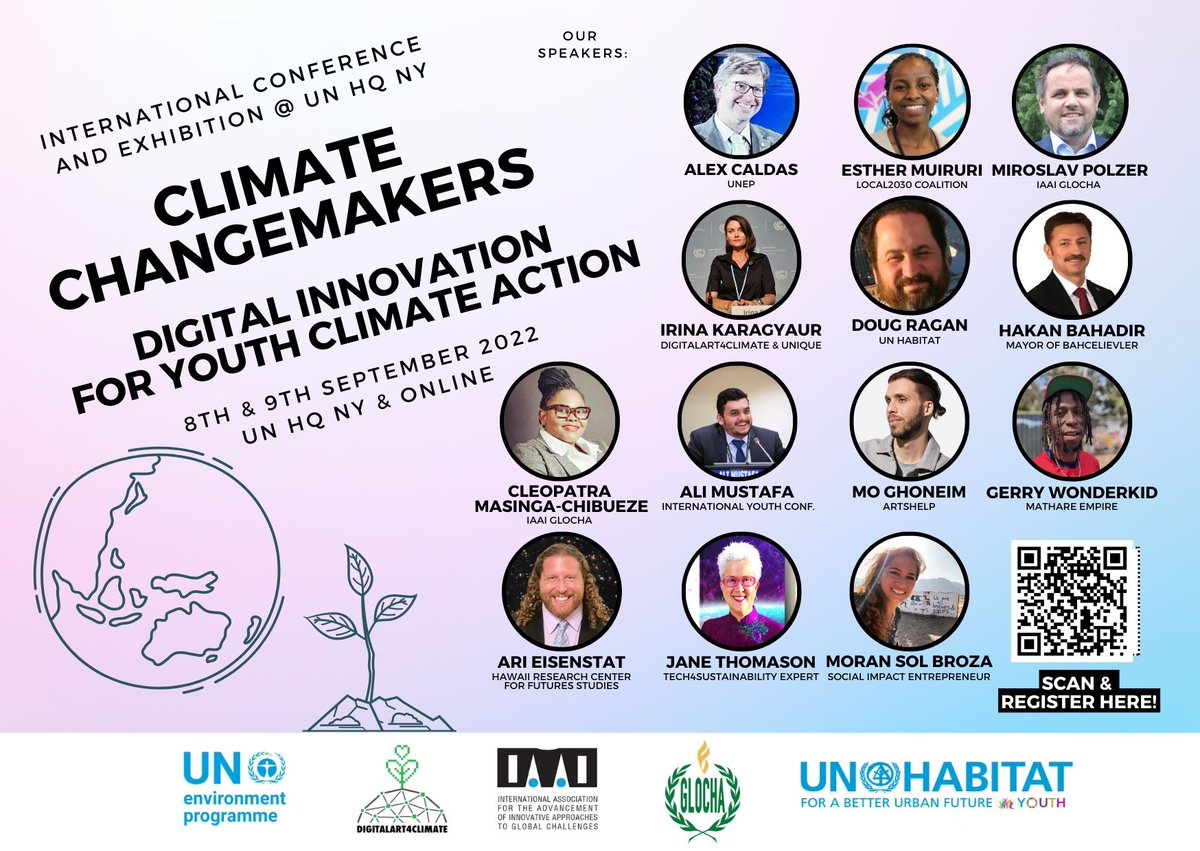 Presentation of existing and planned digital tools/solutions for youth focused local SDG action and climate action empowerment and formation of a #Digital4Youth multi-stakeholder partnership for the collaborative development of the necessary global technological infrastructure/ecosystem (digital identity management, youth climate action reporting framework, digital measurement-reporting-verification, crowd-evaluation, global challenges action registry; (NFT) marketplace, participatory multilevel governance tools, digital finance, metaverse/VR/AR solutions, data collection/citizen science, education, gamification, ….) for effective youth engagement and empowerment in local SDGs implementation.
The event as well as the partnership aim for strong alignment with relevant UN system efforts like
Localization of SDGs (Local2030 Coalition)
UN system innovation in the context of the UN SG's "Our Common Agenda" report (esp. 'Summit of the Future' and 'UN Office for Youth' preparations)
Youth engagement & Action for Climate Empowerment at UN Climate Conferences COP27 and COP28
Background:
The Climate Changemakers: Digital Innovation for Youth Climate Action Conference and Exhibition is a joint initiative of the Climate Changemaker initiative, a programme of UNEP supported by the Government of Lanzarote, Spain, IAAI Glocha, the Turkish Municipalities of Balikesir and Uskudar and UN-Habitat.
This event serves as a space to spotlight the unique and innovative ways for youth led creativity and entrepreneurship to spur global and local change and to highlight the enabling role of digital innovation for the localization of the SDGs. This is also a space for networking, partnerships, and idea sharing for innovative solutions related to inclusive governance and youth-led SDG localization. The Conference will include a week-long DigitalArt4Climate exhibition, a 2-day conference, and a reception.
Initiatives such as Climate Changemakers, the UN World Environment Situation room and DigitalArt4Climate will be the centerpiece of the conference. Youth participants and award winners will also be present at the conference to share their experiences and new innovative technologies. Multi-stakeholder partnerships are essential to implementing the Sustainable Development Goals and Agenda 2030 which is why this space has been created to exhibit technological innovations and exchange ideas for sustainable solution-making that puts youth at the forefront and amplifies their voice for change.
Agenda:
8 Sept – 10.00-11.00 Welcome Session and Thematic Introduction
Moderator: Taylor Garner, UN Habitat Youth 2030 Cities
Organisers/Partners:
Cleopatra Masinga-Chibueze, IAAI GloCha
Doug Ragan, UN Habitat
Alexandre Caldas, UN Environment as co-organizer (virtual)
Valentina Calò, UNDP Rome Office – Youth4Climate (virtual)
Ali Mustafa, International Youth Conference
DigitalArt4Climate Exhibition:
The art exhibition will take place in the curved-wall exhibition space at the United Nations Headquarters in New York preceding the opening of the General Assembly from September 6th to the 9th. Participants and invitees will be able to see and interact with digital art such as the DigitalArt4Climate award winners from COP 26 in Glasgow on TVs projecting a walk-through through the DigitalArt4Climate virtual gallery and learn about the concept and tools of this innovative youth climate action empowerment initiative. Among 208 artworks from 58 countries the the DigitalArt4Climate competition selected 30 creations with a great level of art skills and unique ideas about the Climate Action which will be sold on the DigitalArt4Climate marketplace as CleanNFTs for resource mobilization in support of Sustainable Development Goals and UN Agenda 2030 implementation.
Contact: dr. Miroslav Polzer, executive director of the International Association for the Advancement of Innovative Approaches to Global Challenges, [email protected]