Sustainable Surgical Systems and Planetary Health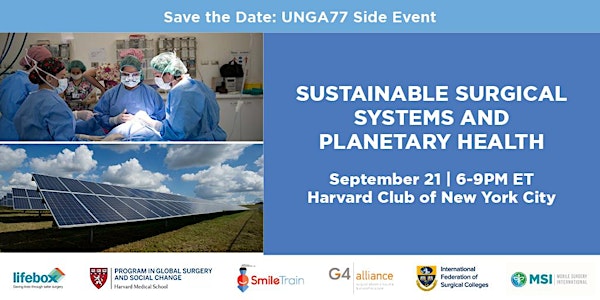 Worldwide, an estimated five billion people lack access to safe, timely, and affordable surgical and anesthesia care, resulting in a staggering one-third of the global burden of disease from conditions that could be treated or prevented through surgery. Universal access to safe surgical and anesthesia care is essential to save lives, prevent disease and disability, foster economic development, and support resilient, pandemic-ready health systems.
In the last decade, however, the gap has only widened as the world faces the multiple crises of the ongoing pandemic, growing economic and social inequities, and climate change. The space, staff, stuff, and social support of surgical systems have proven to be critical for meeting these challenges, but advancing planetary health means expanding these services while simultaneously mitigating their significant carbon footprint. Investment in the sustainable scale-up of surgical and anesthesia care offers an opportunity to make dramatic advances in population health, promote pandemic preparedness and system resilience, foster economic growth, and position health systems in low- and middle-income countries to be leaders in addressing the climate crisis.
This event, hosted on the sidelines of the 77th UN General Assembly, will convene diverse stakeholders across the global surgery and planetary health communities to discuss the challenges we must confront and the opportunities we must seize as we pursue health for all—and health for the future of our shared home.