The Nest Summit Campus- There is No Greater Time Than Now For Climate Change

The Nest Summit Campus
Partnering with industry leaders to create an inspired, central destination for climate action is at the core of what we do. The Nest Summit Campus, official event partner of Climate Week NYC, brings together like-minded organizations and individuals to educate, inspire, drive change, and spark climate action among businesses, government officials, academia, NGOs, and consumers.
It's all happening at the Javits Center during Climate Week NYC (September 19 – 23, 2022).
For the full agenda and schedule of events, visit here.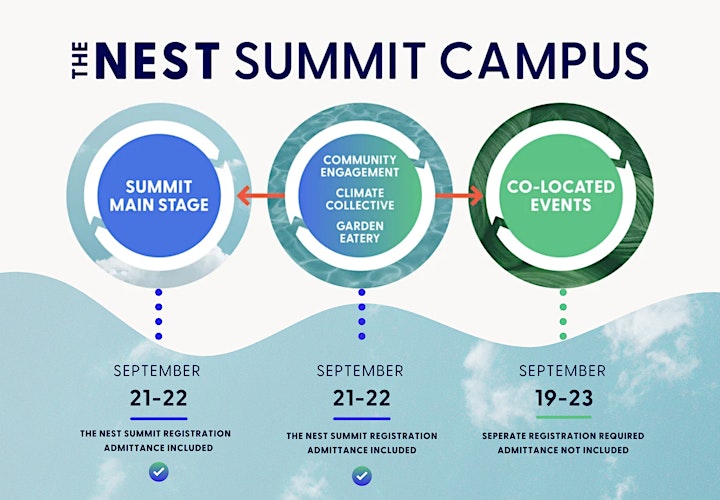 Important Note: Tickets to The Nest Summit Campus do not admit access to Co-Located Events. Co-Located Events will have separate registration pages.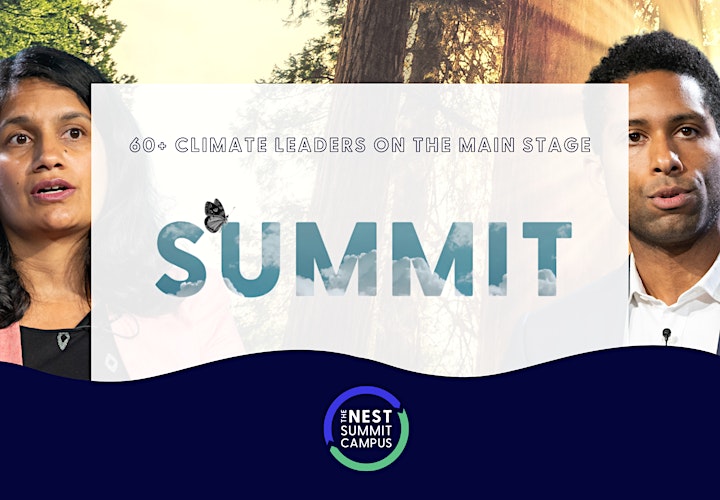 About The Main Stage Summit
With your ticket, access the brightest minds and most committed organizations of the climate solutions movement! The Nest Summit's Main Stage brings 60+ thought-leaders from leading organizations and the climate community together for two full days of education, inspiration, and collaboration.
For the growing roster of participating organizations, visit here.
For the growing roster of speakers, visit here.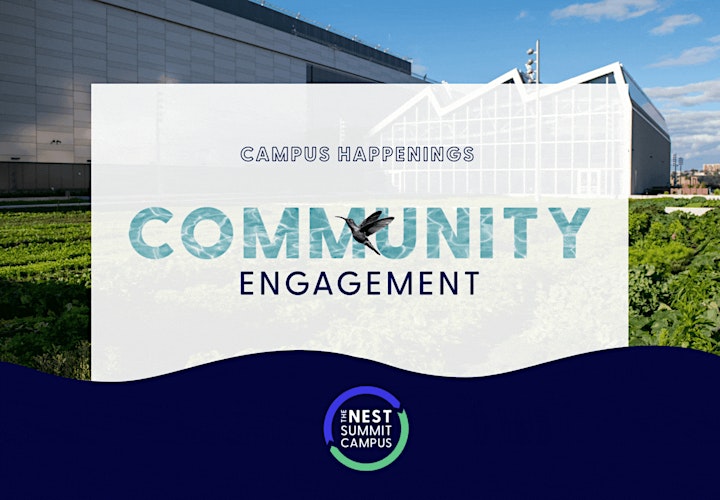 About The Campus Community Engagements & Happenings
Connecting communities is paramount at The Nest Summit Campus. In addition to the Summit Main Stage conference and Co-Located Meetings & Events, attendees will enjoy extended community engagement activities.
Partake in the many opportunities to explore, network, and feast!
CLIMATE COLLECTIVE
Activations and Networking Spaces Provide an Environment for Connecting with Colleagues and Discovering Climate Solutions.
CLIMATE ARTS
Designed to Inspire, Immerse Yourself in the Intersection of Art and Action.
GREEN ROOF TOURS
The Javits Center will be offering free tours of its 6.75-acre green roof, one of the largest of its kind in the United States!
GARDEN EATERY
Adjacent to the Javits' rooftop farm, orchard, and gardens, feast on a plant-based menu with vegan and vegetarian options for breakfast and lunch, and learn something new! Experience the circular story around the Javits food management system – from roof to table, local sourcing, and waste management.
QUEENS NIGHT MARKET
Co-Locating with The Nest Summit Campus, join the evening festivities of this widely popular cultural experience.
SPECIAL APPEARANCES
Hear from some of the most influential thought-leaders in the New York government and NGOs who are championing legislation and community service.
For the full agenda and schedule of events, visit here.