Virtual Event
UN75 Dialogue | Shaping Her Future
To view a recording of part of this event, click here.
"Since no country has achieved gender equality, it is imperative to use synergies between different sectors and stakeholders to accelerate progress." – Phumzile Mlambo-Ngcuka, Executive Director of UN Women
This year summit will explore discourses, conversations and ideas around the intersection of the existing gender inequality, the state of the SDG 5 progress and its integration with other goals, and the realities that were foregrounded due to COVID-19. In addition, we would be highlighting the role and impact of media and technology in advancing progress towards gender equality.
As a build-up to the Social Good Summit Lagos 2020, we are having an online dialogue to curate thoughts around women wellbeing in Nigeria.
To mark its 75th anniversary in 2020, the United Nations is igniting a people's debate. This debate promises to be the largest and furthest-reaching global conversation ever on building the future we want. In a world of dramatic changes and complex challenges, we need collective action more than ever before.
Through UN75, the United Nations will encourage people to put their heads together to define how enhanced international cooperation can help realize a better world by 2045, the UN's 100th birthday.
We are capturing women voices around:
What kind of future do we want to create?
Are we on track?
What action is needed to bridge the gap
Please note that these sessions are virtual over Zoom Conference.
Join the conversation online using #2030NOW #SGSLagos20 and @SocialGoodLagos
For sponsorship or enquiries, send a mail to Godwin@socialgoodlagos.org
Focus Groups We are Curating
Corporate career
Trade
Artisans
People with disability
People living with HIV/AIDS
Entrepreneurs- formal economy
Domestic workers
Sex workers
Single parents
Teenagers
LGBTQIA+
Housewives
Politics and governance
Women in crisis region/IDPs
Women in rural communities
Schedule:
Single Parent Focus Group – WED. 16 SEPT. 2020 | 11:00AM – 12:30PM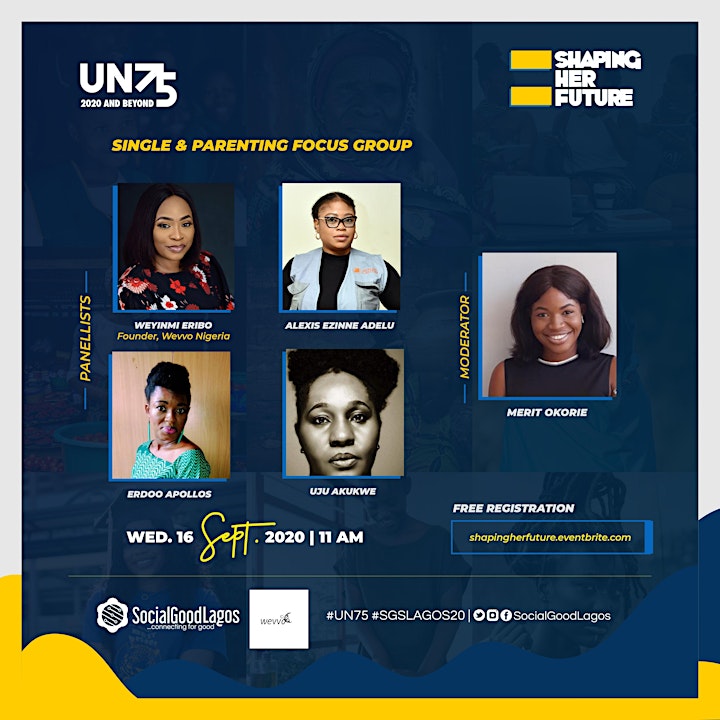 Women in Trade Focus Group – WED. 16 SEPT. 2020 | 12:30AM – 2:00PM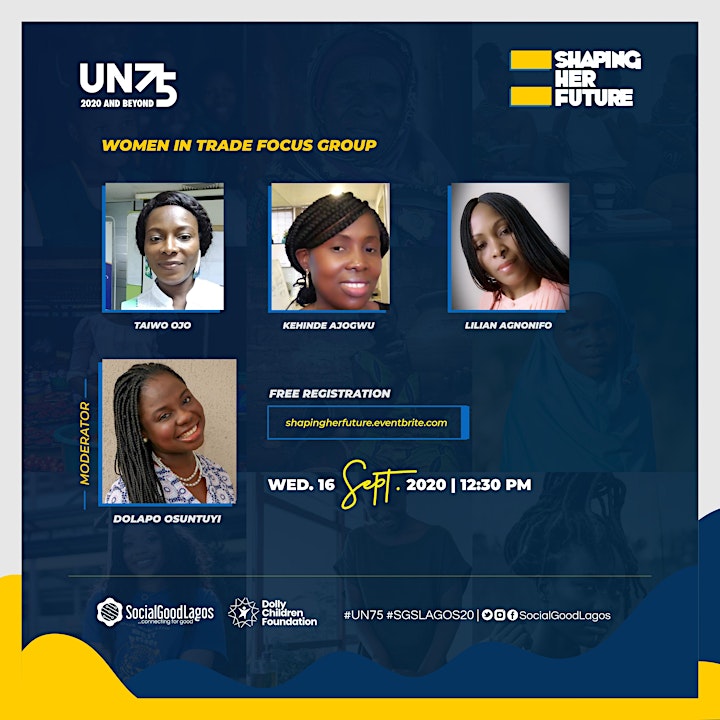 Women in Enterprise – WED. 16 SEPT. 2020 | 2:00PM – 3:30PM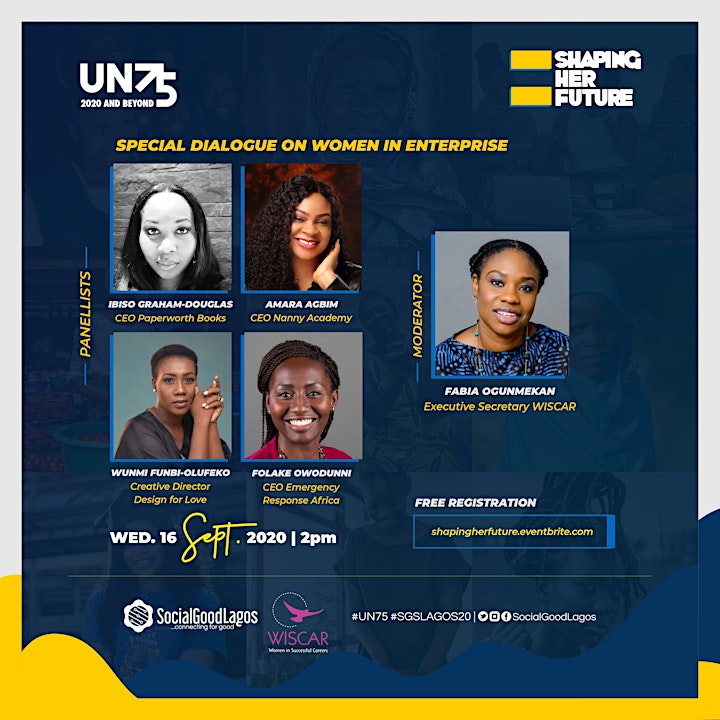 Teenagers Focus Group – WED. 16 SEPT. 2020 | 4:00PM – 5:30PM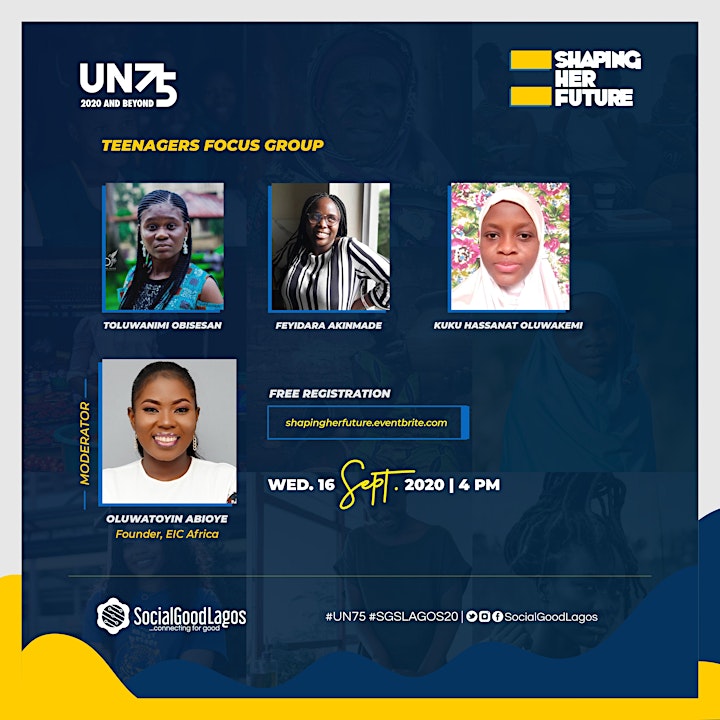 Housewives Focus Group – THURS. 17 SEPT. 2020 | 11:00AM – 12:30PM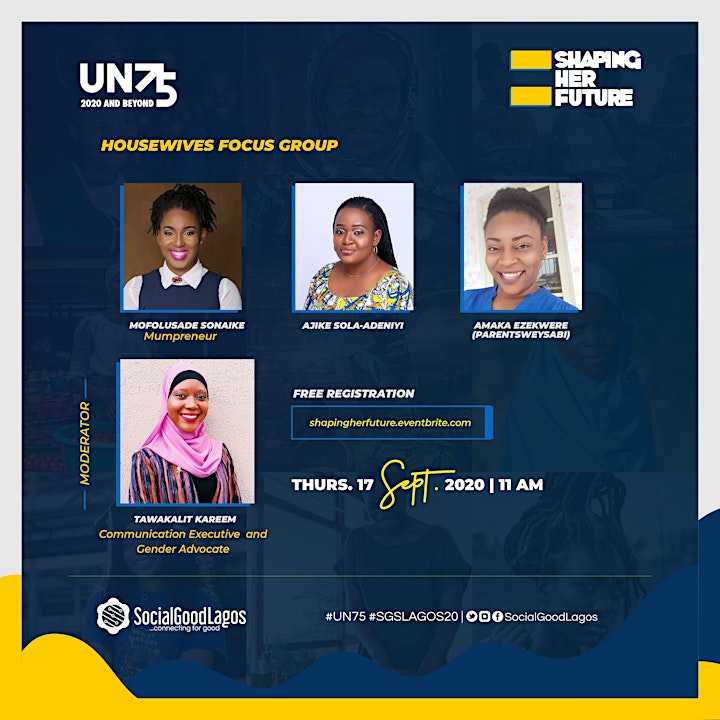 Women in Corporate Careers – THURS. 17 SEPT. 2020 | 2:00PM – 3:30PM