Unlocking Impact: Data with Purpose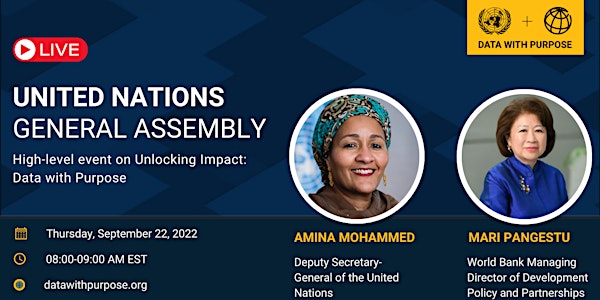 At the 2022 General Assembly, the United Nations and the World Bank will convene global leaders to explore how new data ecosystems can unlock exponential value for the big challenges of our time.
Moderated by Folly Bah Thibault, and co-hosted by Amina Mohammed, United Nations Deputy Secretary-General and Mari Pangestu, World Bank Managing Director of Development Policy and Partnerships, the event will feature top leaders from governments, the private sector, multilateral institutions, academia, and foundations.
The UN's Technology Envoy, Amandeep Singh Gill will use this opportunity to set out a vision for more sustainable, impactful, and well-governed data and digital ecosystems for people and planet.
For more information on the event visit www.datawithpurpose.org
Watch the General Assembly event live on UN Web TV on Thursday, September 22, 2022 from 08:00-09:00 AM EST.
If you have questions, please email us at [email protected].